Openness, integration and sharing, these are the three keywords of the meetings that formed the basis of the sixth convention of the Union of Refrigeration and Kitchen Technicians in France (UFCF). A turning point in the life of this hitherto very discreet group…
Driven by the new president and a dynamic steering committee*, the Sixth UFCF Convention shaped the new face of this group of 43 companies. The event took place in Terracina, a seaside resort located a few kilometers from Rome, a place not chosen by chance: " We wanted to mark the spirits with a strong symbol. What better than Rome and the history of its founding to evoke the spirit of conquest that drives us, but also the union, since it is also in Rome that the EEC was founded… ", emphasized President Christophe Clairet as a welcome word to the 200 participants, members and referred supplier partners who were present. The tone was set for two intense days of team building, mixed business and workshop, where everyone could discuss and get to know each other in a friendly and constructive atmosphere.
Successful integration
What could be better than a photo rally to allow participants to get to know each other better in a fun and stimulating atmosphere? This was what the organizers of this convention had prepared for the attention of the group, who upon their arrival were able to discover the small town of Terracina by solving puzzles and taking pictures in a lively atmosphere. Total immersion and laughter guaranteed for everyone, just to break the ice. The idea was also to welcome the 8 new members – the group receives an average of two to three membership requests per month – and those who had never attended a convention that takes place every 3 years. And the pandemic had also made any meeting impossible. Thus Leclo Concept (78), Equip'Froid et Collectivites (59), Cuisines et Comptoirs (30), Cevitech (68), Thevenet (71), Techni Cuisine (33), Rivoal (56), Kuthe-EIMI (57) ) was able to discover the true meaning of the slogan of the group "Independence in Solidarity".
CP / NO
Ideas arose from Business Mêlées, where suppliers had to work on current topics such as circular economy, anticipating customer needs or after-sales service, etc.
" We were previously in another group where we had no exchange ", said Mélisa Weynants, who together with her husband Christophe Corion manages Equip'Froid et Collectivites. " With the UFCF, I think we have found a new family where human relationships are essential. For us, it is a fundamental value ". For Thierry Lemière, head of Leclo Concepts, "the tools offered to us here and the amalgamation of purchases within a unit on a human scale are the elements that appealed to us". For Artois Equipements Collectivités (AEC – 62), whose director François Lobry, one of the six founding members of the group, has just sold his company to the Baelen group, it was also an opportunity to present Nathalie Ferraro, the new general manager of the company. As for Patrick Merenchole , another founding member of the group, it was his last rally… now it's my son who takes up the torch he clarified.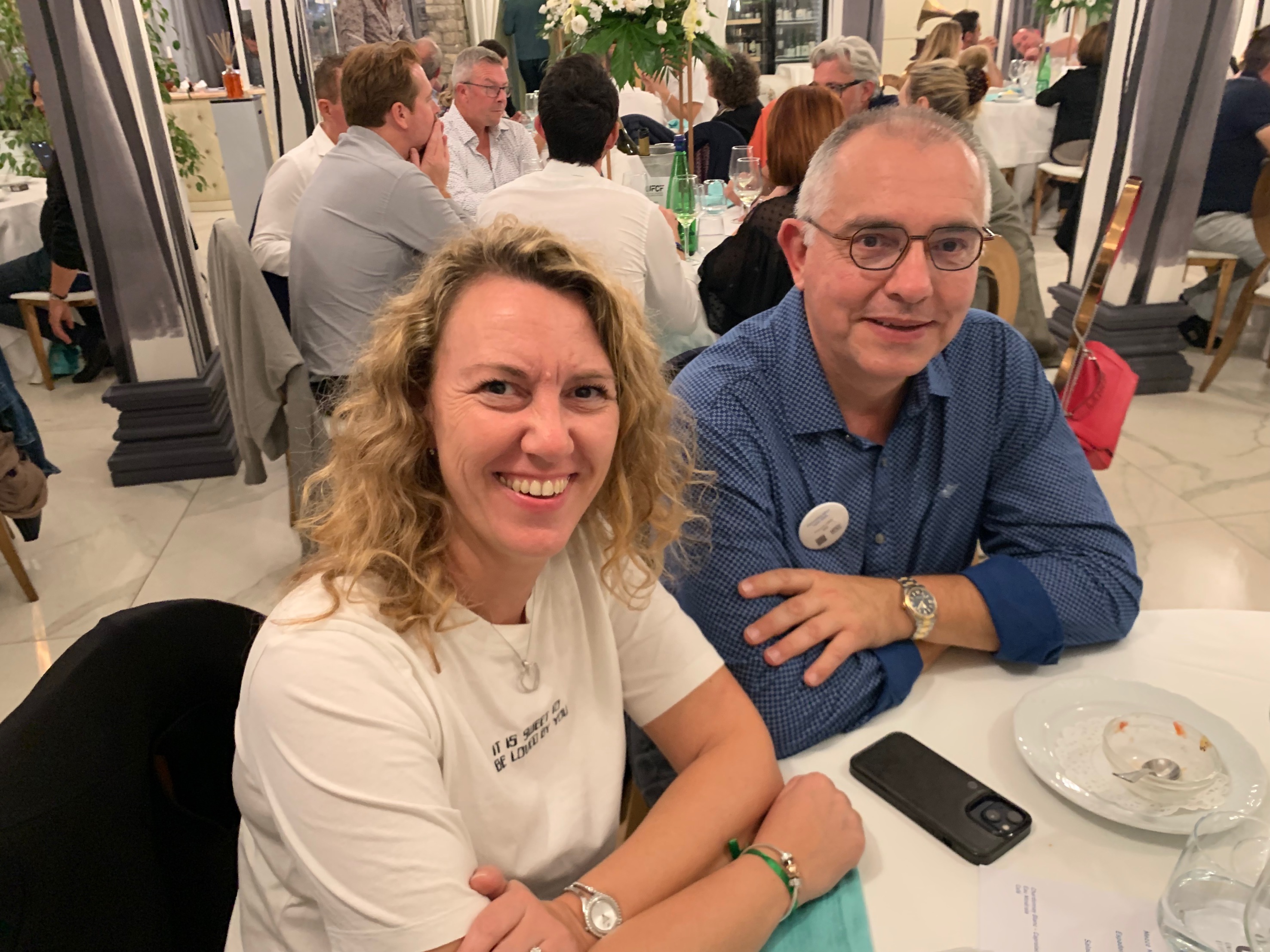 CP / NO
François Lobry (AEC) used the convention to introduce his new CEO, Nathalie Ferraro.
Recalling history, integrating newcomers and looking to the future
It was with a brief historical reminder that the plenary session began. It was recalled that in 1999 only six companies founded the UFCF: Jean-Claude Clairet, father of the current president who then led Caen Froid, Patrick Merenchole (Meranchole in Grenoble), Marc Bichard (Bichard Equipment), Jean-François Albareil ( Albareil Equipment), Yannick Lefbvre (Promotel) and François Lobry (AEC). Christophe Clairet also recalled GIE's ambitions, which increased from 40 million euros in purchases in 2019 to 53 million euros in 2021. Our goal is to reach 70 million euros within two years by seizing all the new opportunities that come our way. The changes that the restoration is going through must also bring us, the possibilities are numerous… ".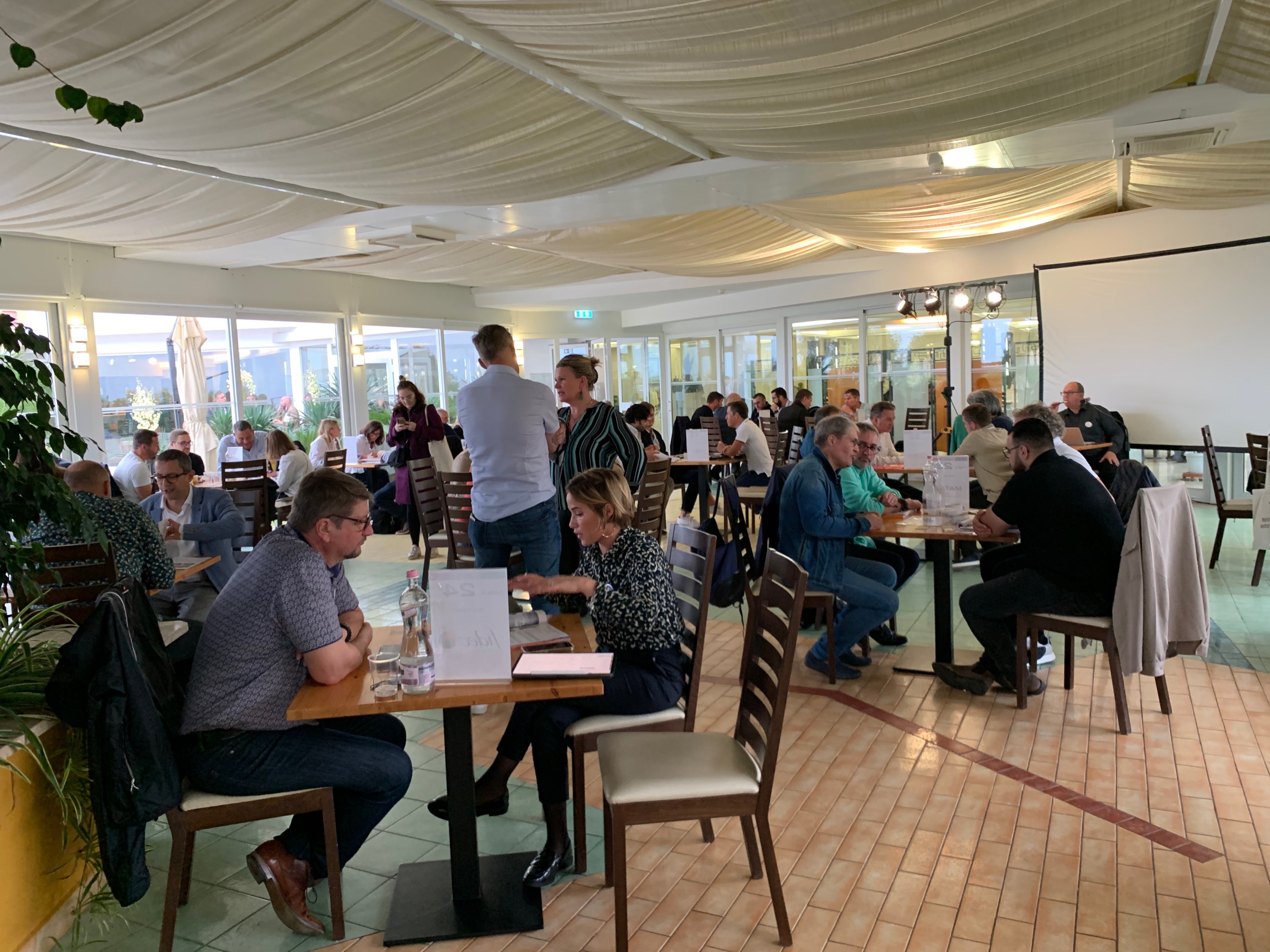 CP / NO
The workshop gave suppliers the opportunity to meet all companies in the group in 4 minutes!
To drive the point home, the UFCF had invited FoodServiceVision, a consulting firm that conducts research into the catering markets, to explain to the gathering exactly what these opportunities are and how to approach them as an installer. If the models change, installation and maintenance are still essential to support and advise professionals. Christophe Clairet also recalled the interest in the Key Accounts unit that was created, which is a lever to promote the business, as well as the UFCF Academy, which allows teams to be trained.
Reminder of rules to follow
To remember the rules to which the members of the group and their suppliers must submit, Eric Vialacre has not cut in order. He stated that members and suppliers should respect each other, especially by favoring the telephone over sending impersonal or even disrespectful e-mails, and cited to illustrate his remarks a few anecdotes which did not fail to give chills, but which all could recognize themselves in. the problems of availability, shortages and price increases have affected every single company. He mentioned the members' obligation to meet payment deadlines and to make 70% of the purchases from referred suppliers (about 120 with also a Novatec own brand created in collaboration with the largest manufacturers). But he also mentioned the names of companies that will never be part of the UFCF adventure," because they disregarded our profession and disrespected the installers. There is also no question of being toolbox carriers of these brands or a particular government store, regardless of whether they go elsewhere… ".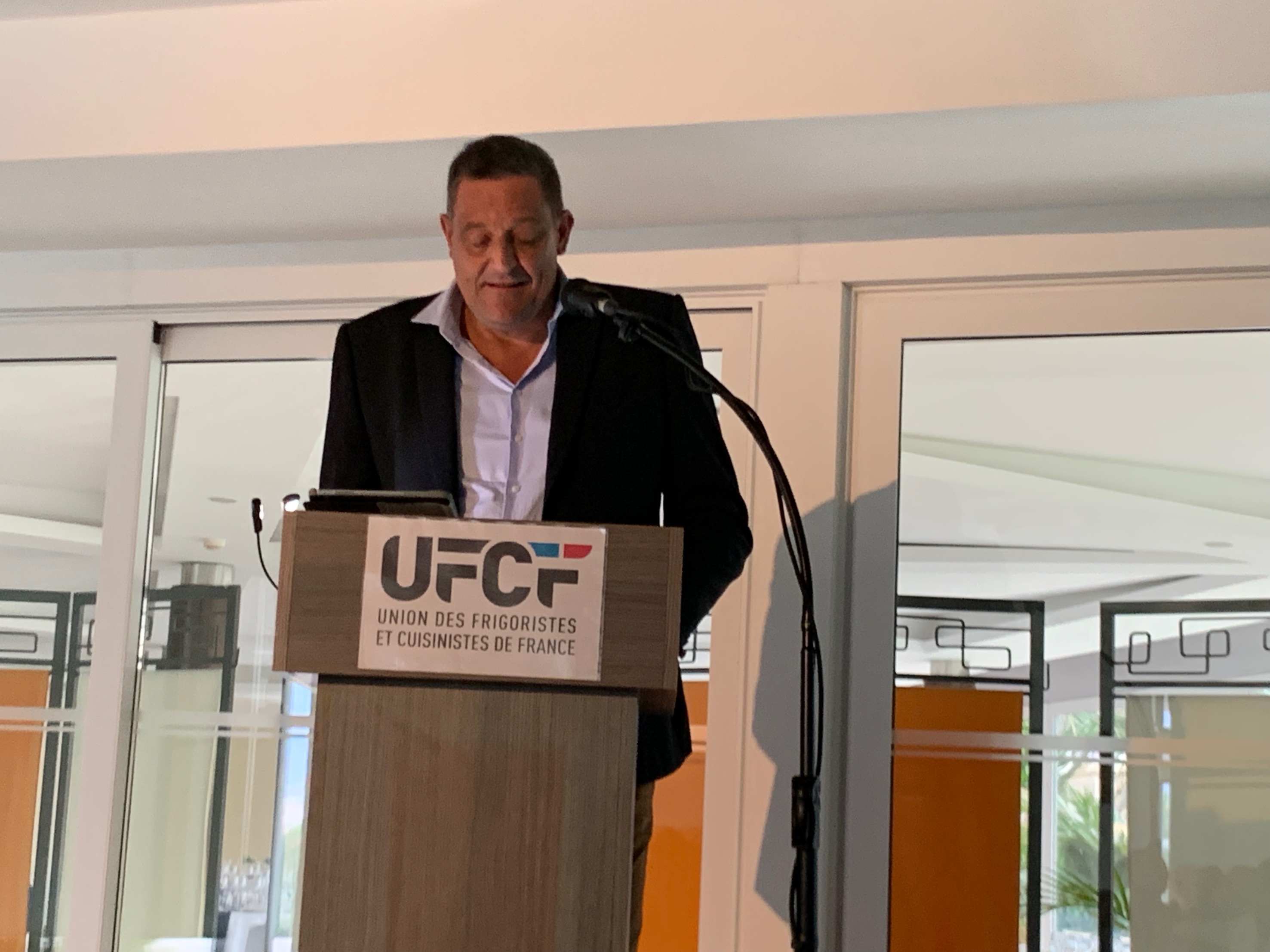 CP / NO
Eric Vialacre, chairman of the group's kitchen commission.
On the supplier side, Eric Vialacre commented on the delivery difficulties with the extension of deadlines, which put both parties in difficulty: "we prefer that you call us to talk about your difficulties rather than choose silence… What would you think of us if we did the same with our customers?". He also addressed the always difficult issue of warranty terms. "Let's have a coordinated communication!" If you want to extend the parts warranty to make it work, submit it to a maintenance contract, we all want to do better business! ". Finally, he invited suppliers to find solutions to better train the installation company's sales representatives: " let's improve our technical skills together so we will grow together… ".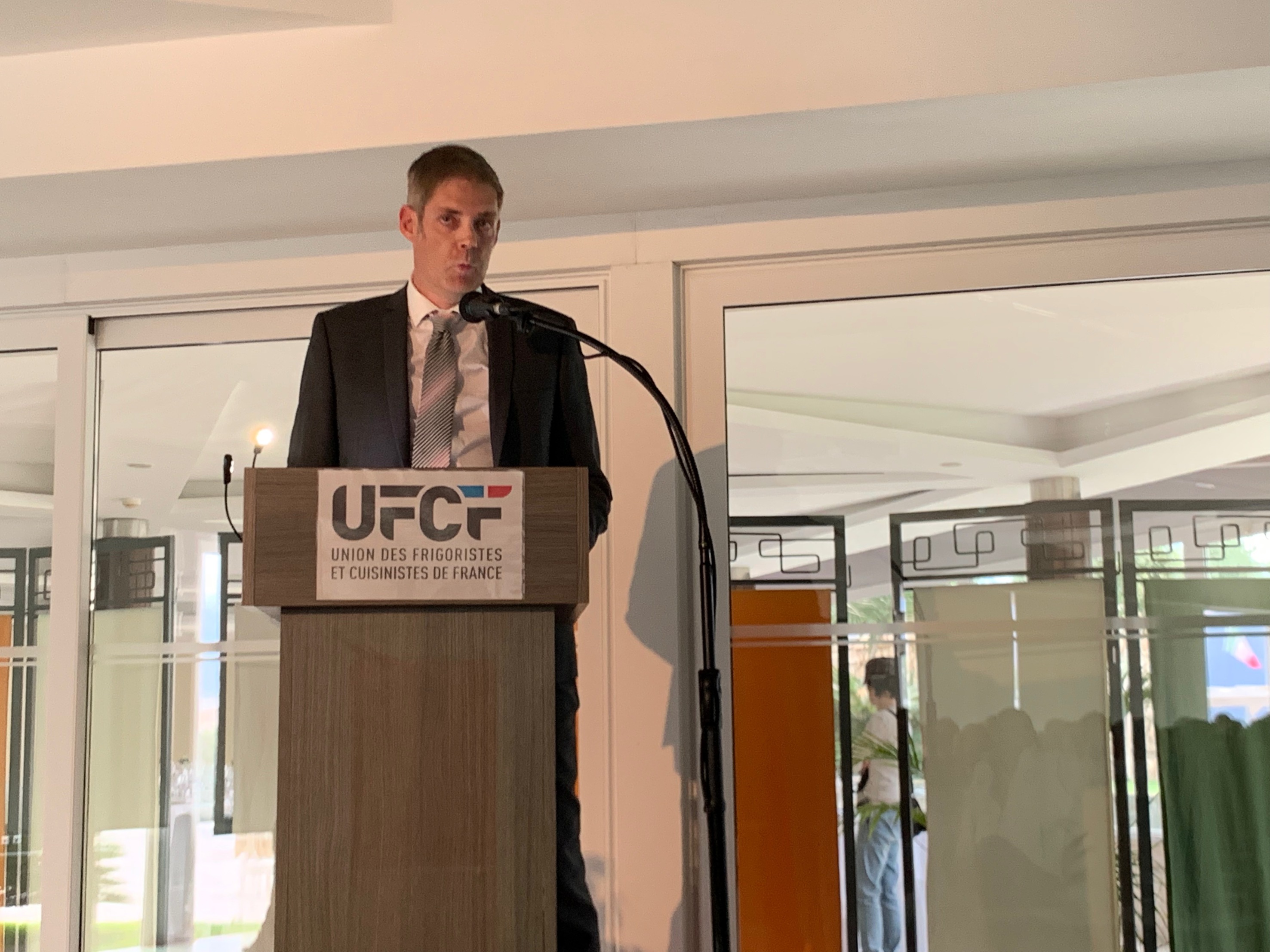 CP / NO
"Let's be more PRO" concluded President Christophe Clairet, who with his brand signed a very successful first convention.
More PROs
Before the presentation of the ideas – some of which are particularly relevant, such as the establishment of a platform to manage downgraded or refurbished equipment, which would avoid unnecessary and expensive transport costs – that came out of the Business Mêlées, where suppliers had to work on topical issues such as eg. the circular economy, anticipating customer needs or after-sales service, and before moving on to the festivities (gastronomic gala evening and fireworks on the beach), Christophe Clairet concluded this sixth conference by hammering: "Let's be PRO in our activities: PROactive, strengthen PROposition, PROfessional , PROoductive, let's respect the procedures, let's do more PROJECTS thanks to our Key Accounts unit, use our strength which is PROximity…".
* Compiled by Christophe Clairet (CF Cuisines), Olivier Godon (Albareil), Eric Vialacre (Aveyron Froid Cuisine), Gilles Beauchoux (ProxiFroid), Jean Charles Ozanneau (Servi hôtel), Maher Mahdjoub (Hemco), Bruno Cesar (Fidec), Patrick Merenchole (Merenchole), Francois Lobry (AEC).
UFCF Green
Since 2008, UFCF has supported member companies in a sustainable development approach, which is essential to meet tomorrow's challenges.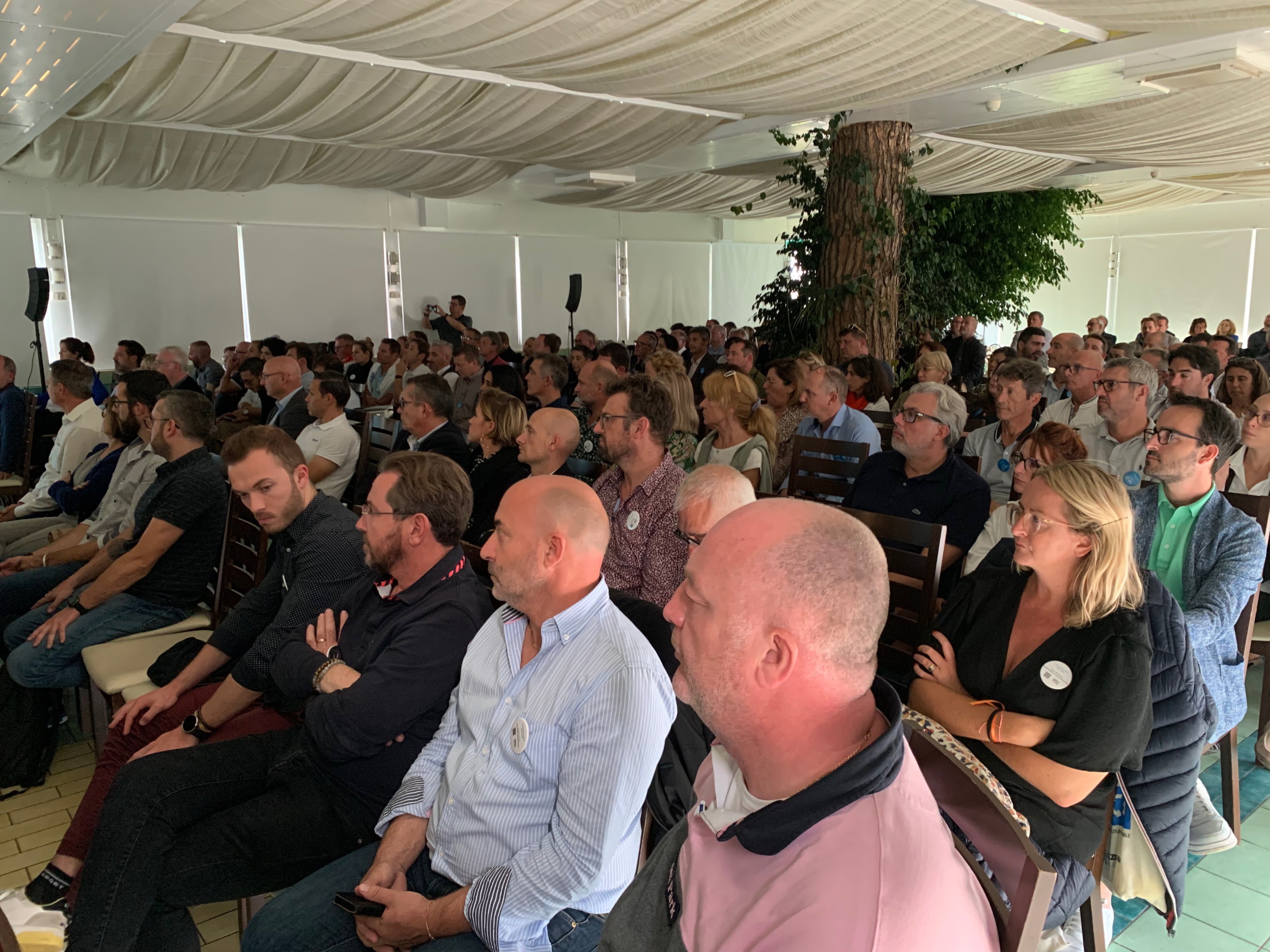 CP / NO
A plenary room attentive to feedback from the working day.
With the UFCF Green label, the UFCF clearly shows its awareness of issues such as sustainable development or global warming. A pioneer in the sector, with this important step the UFCF confirms its maturity and its consideration of the imperatives associated with energy savings, recycling and deconstruction. An environmental charter drawn up on the basis of specifications, rules and regulations is offered to all our members to enable them to integrate new ecological, economic and social requirements.
The rally was an opportunity for Florie Zago to remind that this commitment is realized by UFCF's membership of Planète Urgence, an NGO involved in reforestation, to which it has already paid €337,500 (annual contribution of 22 €500 ), which has made it possible to plant 337,500 trees since the beginning of this partnership.
">