The Envy X360 from HP benefits from a good finish, an OLED panel and a Core i5 (eleventh generation…) powerful enough to ensure essential uses, all this at an attractive price.
As the name suggests, the Envy X360 from HP is a hybrid laptop. Understand that its touchscreen can rotate 360° and fall on the back of the case to become a tablet. Its 13-inch OLED screen allows you to take notes, e.g. But like any product that does two things at once, it combines the limitations of two form factors. A little too bulky for a tablet. A touch screen, which is not always interesting… We would also consider it an ultraportable screen for its main use.
Presentation: well finished and ultra portable
With its aluminum chassis and quite thin for a hybrid PC, the Envy X360 gives an impression of quality and good craftsmanship. With its thickness of 1.87 cm at its highest, HP had to compose to offer a connection that lasts. There are two clamshell USB-A 3.2 ports, a Thunderbolt 4 port in USB-C format, a microSD card reader and a mini-jack connector. On the wireless side, Wi-Fi 6 and Bluetooth 5.0 are included.
The keyboard and touchpad are responsive and comfortable to use. All the better because the Envy X360 is designed for office automation. The layout and travel of the keys is good, we enter text with pleasure. We also note the presence, next to the direction arrows, of a fingerprint reader that allows you to identify yourself using Windows Hello. The webcam (720p) does not support face recognition. It also doesn't really allow you to film yourself with good quality as soon as the amount of light drops. And even in bright light, we could have hoped for better.
Display: the strength of OLED… and some flaws
HP has opted for a touchscreen OLED panel (that's why) for its hybrid ultraportable. Its Full HD definition (1920×1080 pixels) is perfectly suited to this screen diagonal. We would have liked a slightly higher resolution: The 166 points per inch allows the pixels to be seen and slightly emphasizes the effects of aliasing, especially on the fonts.
The panel is quite bright. At 443 cd/m2, it's not the best, but it's still 15.9% brighter than the average hybrid laptop tested by 01Lab. That's quite excellent, especially if we add that the brightness can go up to 578 cd/m2 when displaying HDR content.
In contrast, impossible to ask for more, the OLED panel offers what has been done better. On the other hand, color reproduction is far from perfect by default. With a Delta E 2000 of 4.16, the Envy X360 is 4.6% less accurate than average, and it's clear that the displayed colors are quite far from their true value. However, it is not extremely serious unless you intend to work on a few images or make a few small video montages.
Performance: for office automation and nothing more…
With its Core i5-1135G7 and its integrated Iris Xe chipset, all supported by 8GB of RAM (only, and that's a shame, especially since it's soldered), the Envy X360 is clearly cut out for office computing. It will conquer your heaviest spreadsheets, although the amount of built-in memory can be a hindrance at some point.
PCMark 10 gives it a total score of 4,459 points, giving it a 10% advantage over the average hybrid PC we've tested in recent months.
Thanks to its integrated chipset, you'll be able to push its limits a bit by asking it for small video editing or heavier tasks. But then you'll have to be patient, its content creation score in PCMark is only 4,566. You'll also have to accept that it will start to vent… Fortunately, it remains relatively silent. We recorded a maximum noise of 32.7 dB.
Finally, the last point that confirms that the X360 is cut out for office automation and that large heavy files should be avoided is the speed of its M.2 SSD module, which is easily replaceable. With just under 1.2 GB/si writing to a Full HD 1080p file and 1.85 GB/si reading, Word files and other spreadsheets open quickly, but the rest can clog up a bit…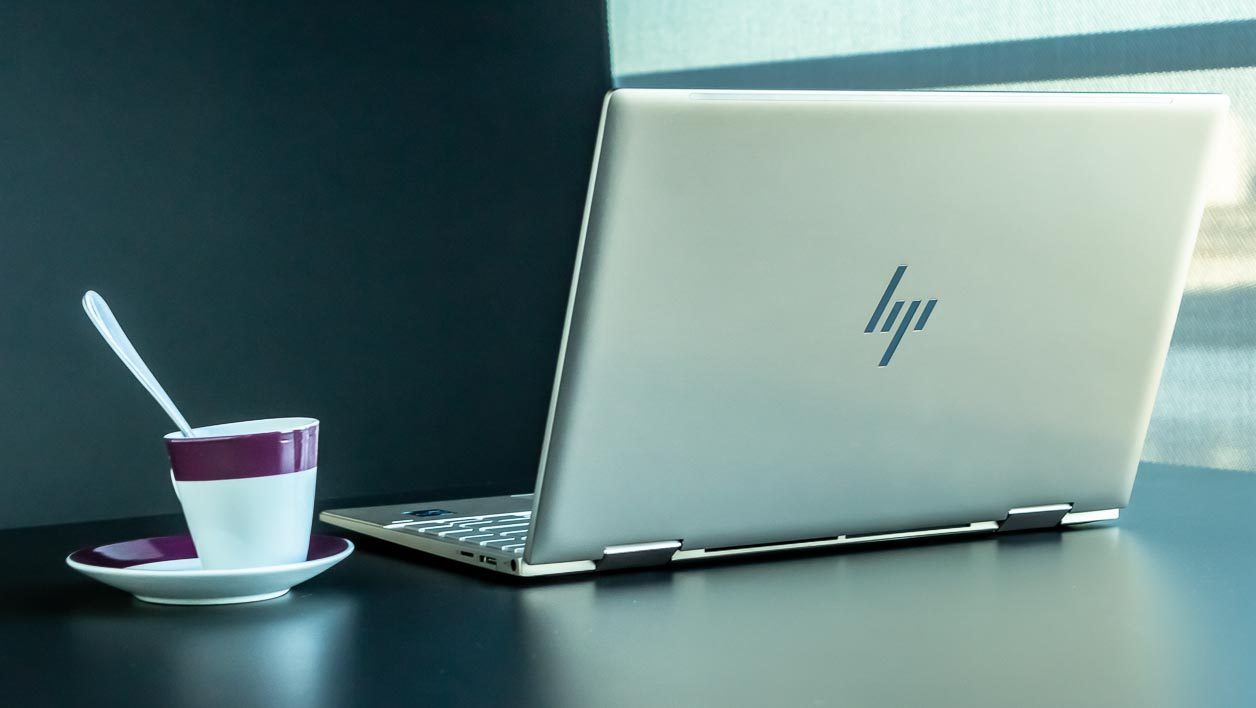 Autonomy: good, but could do better
Finally, let's finish with our two autonomy tests. The first, versatile, simulates everyday use (web, mail, office automation, etc.) until the battery is exhausted. In this case, the Envy X360, from HP, lasts 9 hours all round. It's honest and should allow you to work for a good half day away from an outlet, but not last the whole workday, that's for sure. This result is also 4.6% lower than the average for this product category. Finally, our second test, video streaming, only scores the HP hybrid 6:50. It's pretty far from good… And even almost 11% worse than the average of its competitors.