But what fly could she have bitten the insurance company Axa for being so angry at the nascent electric car market?
Electric car accidents: new risks for road safety? The Swiss department has actually published a pseudo-comparative study that tends to prove it Electric vehicles cause more accidents than others
Drivers of electric cars cause 50% more collisions that cause damage to their own vehicle than owners of traditional combustion models
The article, which is still online at the time of writing, even carried out a crash test to prove the dangerousness of these vehicles, with explosions, fires and everything. A Tesla Model S even was the victim to prove to our Swiss friends how dangerous these powerful models loaded with kWh were to drive in the event of an accident:
As part of the new annual crash tests, AXA accident researchers demonstrate causes and consequences for road safety.
Except… this famous crash test was completely fake. The car in the video has had its built-in battery removed and the flames and explosion are actually from… pyrotechnic effects… a real Hollywood scenario!
Faced with the bad buzz, the insurer was forced to apologize via press release:
During the simulation of an accident where an electric car caught fire, we had to take measures to ensure the safety of the public. The test car thus had no battery, and the fire was started remotely. In addition, the crash test conducted with a Tesla-branded model did not cause damage to the undercarriage of the car likely to trigger a battery fire, contrary to what the recorded images might suggest. This test therefore did not confirm this accident scenario. We should have explicitly mentioned this in the announcement after the test, especially in the press release and in the accompanying images.
Axa even confirms (it's moon!) that the risk of fire is not greater for an EV than a VT – what the video suggested though. Furthermore, a recent study by the National Highway Traffic Safety Administration (NHTSA) and the National Transportation Safety Board (NTSB), electric vehicles have a frequency of 25 fires per year. 100,000 vehicles compared to 1,530 for VTs and 3,475 for hybrids.
In retrospect, this test, which was supposed to illustrate a presumed risk, should have been designed differently. We made it clear in our press release that according to statistics from AXA Switzerland, electric cars are no more prone to fire than conventional combustion vehicles. Nevertheless, we must recognize that the published images give a different impression when taken out of context.
Finally, even more seriously, the claim that EVs cause significantly more accidents than their thermal equivalents… doesn't take into account the category, power or price of the vehicle. Considering the few models currently on offer (and the majority of vehicles with high prices and power), it doesn't really make sense to compare 500CV models with the Clio Diesel. As Caradisiac also notes, the study includes a table (rather incomplete because it is listed as "expensive and/or powerful") by category and there, the difference between vehicle types fades noticeably (although it remains against EVs):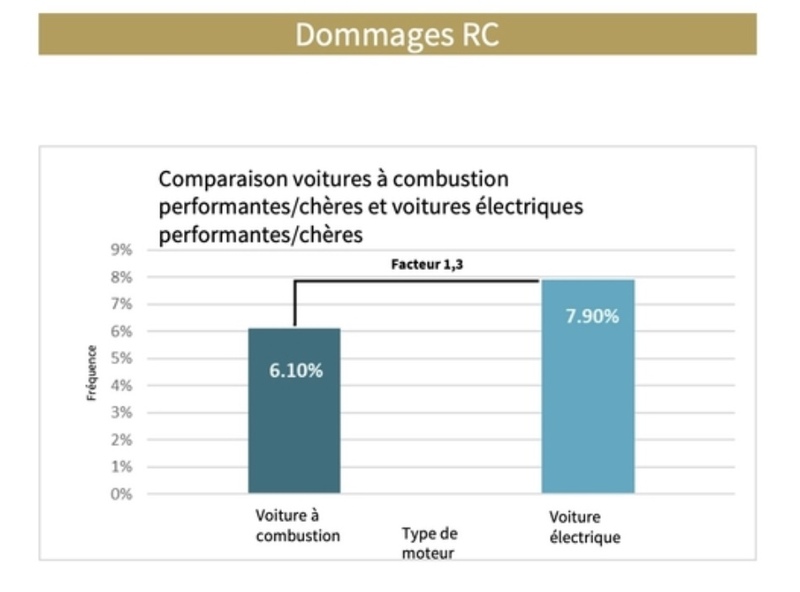 In short, although it seems obvious that the arrival of the electricity fairy and its immediate torque must undoubtedly be perceived by new leaders (EVs are still rare in driving schools), one wonders what interest an insurance company has in organizing such a scene at a time when air pollution is becoming a global problem.