Game news I like games where I do almost nothing
I like the games where I really don't have much to do except a few clicks to execute on my mouse.
A story about perspective
This article is an opinion piece, it is subjective in nature. The author's opinion is personal and is not representative of the rest of JV's editorial staff.
You may have felt it too: this state of lethargy that overwhelms you on Sunday mornings, this feeling of being a comatose caterpillar unable to complete the smallest task. And there are other days of the week that feel like a Sunday morning. Three solutions are therefore necessary in my case: to remain in a lying, semi-lying or even sitting position if an ounce of courage pierces me. The occupation that will accompany me during this long day of assumed procrastination should in no way stimulate my cognitive senses, my brain being on standby throughout the process. Actually, the choice is pretty obvious: I need a "sofa" game.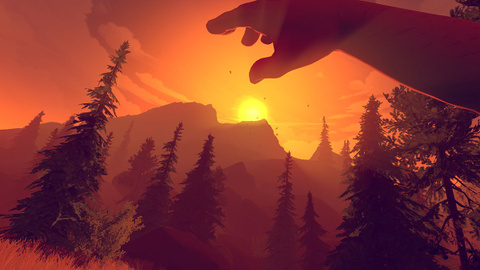 Take The Quarry for example, where it will always just be a matter of performing QTEs or preventing my characters from dying in excruciating pain. In this vein, an Until Dawn will work just as well as a Life is Strange or a Famicom Detective Club: these are games where I often remain passive, my eyes glazed before the 10am nap. 13:30 (or 16:00).
---
Sunday matches
In fact, aren't these games essential in some way? When no movie appeals to you and you absolutely don't have the patience to get into a demanding game, narrative or very quiet games are excellent alternatives and fill a day. Let's not even talk about the walking simulators: pure wonders to boot when I'm half asleep in my chair. Of course, I'm not saying that absolutely nothing hectic happens in these games, it's on my end that not much happens and I love it. The game only asks me a few times to press a button, the interaction is enough to keep my concentration almost constant. What Remains of Edith Finch, Firewatch, Everybody's Gone to the Rapture: so many masterpieces that I enjoyed in my pajamas in an almost divine calm.
My favorite narrative game is Mutazione: a "mutant soap opera" as his studio Die Gute Fabrik likes to call it. We follow the journey of Kai, a young girl who went to see her sick grandfather, Nonno, on his bed. The sick grandfather lives on an island populated by people who have become mutants after a meteorite crash. Kai forms new friendships and discovers the problems of each resident. At the same time, she discovers magical gardens and picturesque landscapes with relaxing sounds, where she learns to grow a whole range of plants. The experience is broadly a series of gossip and gossip that animates the characters' discussions. Nothing out of the ordinary ever happens, but the writing is exquisite and there is a very relaxing atmosphere that I would recommend to anyone. So, beyond the scope of a Sunday in fever mode, Mutazione is the type of game that I want to start on a rainy evening next to a crackling wood stove (even if I don't have a fireplace; roughly speaking, I can only wait for it to rain, except that we are in the middle of August). In short… all that to tell you that each type of game corresponds to a certain state of mind for me, that the ones I'm talking about today transmit very special feelings, and that sometimes they allow me to remain halfway inert, while expanding my cultural field.
A few suggestions:
Shin chan: Me and the Professor on Summer Vacation, a very peaceful game where you accompany the Nohara family on vacation.
Famicom Detective Club, compilation bringing together two excellent detective visual novels originally released in 88 and 89 only in Japan.
Coffee Talk, a life simulation where you listen to the characters' problems and help them by serving them drinks.
Firewatch, an exciting narrative game that lets you embody a firefighter in the wilds of Wyoming.
Mutazione, a "mutant soap opera" with fantastic dialogues, where we follow the young Kai who comes to the bedside of Nonno, her sick grandfather, on a very atypical island.
The Vanishing of Ethan Carter, adventure game where you play a detective with strange powers who has gone in search of a missing boy.
Everybody's Gone to the Rapture, a walking sim where you try to understand what happened to the inhabitants of a deserted city.
Unfolded: Camellia Tales, a touching point-and-click that recounts the 1948 Jeju Island massacres.
The Artful Escape, a short musical walk that traces the identity search of a certain Francis Vendetti.