WhileUbisoft cancels some of its video game projects, it's a license that's always increasing and that pays off big for the publisher: Assassin's Creed. She is currently celebrating her 15th birthday by dedicating each week to one of her main episodes from the most recent to the oldest, all of which must end precisely on the airing ofUbisoft Forward, while an unspecified special meeting is also planned for September to reveal the saga's future. In the meantime, we will be able to survey the countries Niflheim in Assassin's Creed Valhalla short time via the mode rogue-lite forgotten saga. And rightly so, let's take stock of the rumors of the moment as a few small additional details speak to them.
Hope he doesn't follow the same path as Splinter Cell VRwe know that a virtual reality episode is in development at least on Meta Quest 2which could be called Assassin's Creed Nexus and of which a video was previously leaked in April.
The continuation of the main saga will undoubtedly pass in the near future of the project Assassin's Creed Rift (a code name) which would stage basim in Baghdad and which according to two sources to Kotaku would have faced new challenges during its development to release it quickly as it would primarily serve to fill the schedule ofUbisoft, and we understand so much more why now. It could also be the smaller, unannounced premium game that the publisher has pushed back to the next financial year.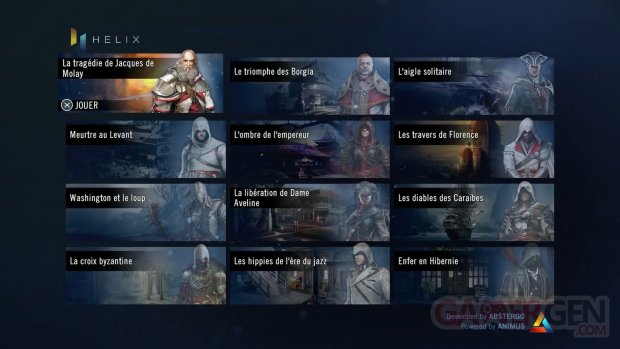 What is certain is thatUbisoft gathered the talent from its Montreal and Quebec studios to work with Assassin's Creed Infinitywhich will not be free to play and whose concept still seems complicated to assimilate by some, from the little that was officially (or not) revealed last year. It should bea platform that gathers future experiences as it is Helix in lore in the beginning ofUnit. A big hub is. What is the difference with the games released so far?
We can only guess, but with the introduction at the end of last year of Cross-stories with new stories involving Cassandra both in Valhalla and Odyssey (an initiative that could come back this time from the sideOrigin), there is probably a need for interoperability between the next games with typical support from productions live service over several years. And with the certainty that microtransactions are here to stay (don't judge), perhaps a common store with access to all our expenses from any title would be possible, e.g.
In all cases, this platform must be filled Assassin's Creed Infinity ! And that is precisely the point that interests us now since Kotaku, covered by Jason SchreierTold youUbisoft wanted to work on a game Assassin's Creed in an open world baptized Project Redwhich would therefore be one of the first experiences playable via Assassin's Creed Infinity. The latest trilogy with Layla having done particularly well in terms of sales, anyone could have bet on it. But where are we going? Project Red ? It may finally be Japan's turna destination long sought after by players (well, Ghost of Tsushima been there since…) and which would inevitably have been discussed internally over the years. Except recently, as reported by game radarJeff Grubb mentioned in a podcast that one of the next entries in the franchise will be set in Japan, according to one of his reliable sources, without being able to confirm the information for himself.
This discussion arose when a certain Jeremy Penter confirmed that the next game would take place among the Aztecs, very quickly contradicted on Save your by Jason Schreier, who recalled that the next episode would be the Rift in Baghdad, in addition to adding that he would be aware of two "games / experiences / biomes" of Infinity and that is not part of it.
The only thing left is to wait and see whatUbisoft will be willing to reveal in September, at least if no other credible rumors emerge in the meantime. Game Assassin's Creed is otherwise for sale at Gamesplanet if you want to play it on pc.
Also read: Ubisoft: the online services for 15 games on consoles and PC will close soon

Responsible proofreading – Editor
Alexandre SAMSON (Omega Law)
Addicted to Assassin's Creed and Destiny, huge fan of RPGs and passionate about video game experiences in general. Reader of comics (DC) and various manga (One Piece!). Chemist by training and Whovian at heart.

follow me

: