Preview Cult of the Lamb: The Devolver game ready to dethrone The Binding of Isaac?
After a demo that made us want to, it is with pleasure that we relaunched Cult of the Lamb to discover more through a true preview. And that's doubly good, as we had a number of points to clarify. So superfluous or exciting? What does the next Devolver look like?
Summary
The perfect mix between Don't Starve and The Binding of Isaac

Sweet, bloody and disturbing

Mini games, branches … From surprises to surprises
Preview mode
The version of Cult of the Lamb that we had access to on the PC allowed us to go even further than during the demo. For almost two hours, we were able to explore the entire Dark Woods (one of the five dungeon worlds), discover additional locations, and improve our base. Note that all upgrades were locked at a certain level.
The perfect mix between Don't Starve and The Binding of Isaac
It all starts with a failed victim. The victim is you, a fragile, helpless young lamb. But a superior force decided otherwise. He who waits frees you from certain death and leaves you with a mission in return: to create a cult in his name to compete (or rather crush) with him who would have you dead. Thus, your roles become as guru and crusader. The gameplay in Cult of the Lamb is actually hybrid. We have on the one hand the whole dungeon-crawler / roguelit aspect and on the other hand the life simulation / cult. It is especially on this last part that we wanted to have more details and we were served.
This whole part turns out to be surprisingly rich as we evolve. Your goal is really to grow your cult and this requires a large number of followers. These serve as both labor and financial support, and their religious fervor will allow you to unlock various improvements to your base and your future battles. You will regularly welcome new followers and the challenge is to keep them with you. To do this, take care of their health, their cravings, their hunger, their faith and the cleanliness of your base. On the program we therefore find crafts, construction and interaction.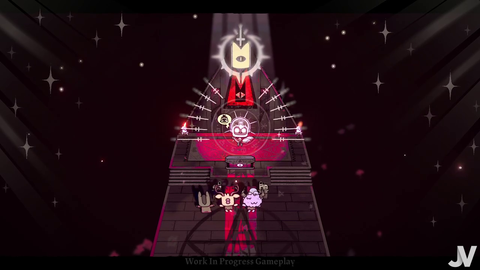 As a worship leader, you will also be able to perform a certain number of actions in your chapel, to increase the involvement of your believers while reaping benefits along the way. Reciting sermons and setting strategic doctrines to change the way your base works will be a part of your daily life. You can even sacrifice some followers for the benefit of the cause and they will walk down the aisle with a smile. You will quickly get caught up in the guru's game, especially since everything is skillfully made and rich as it should be.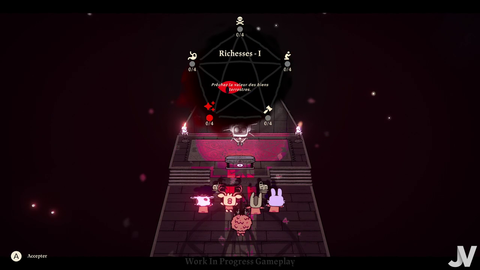 On the other hand, from what we have seen, it is not really difficult to maintain a prosperous atmosphere in your cult. Regaining faith is pretty easy, even when you are in the red. We still met some stubborn believers who wanted to make a real mutiny, but unless you completely ignore your base, it's impossible for it to affect all of your followers, at least for the moment. We can imagine that the more faithful there are, the harder it will be to put out the uprisings, but we could not see it with our own eyes.
Despite this relative lack of difficulty, the results are more than positive. If we were in doubt about how the simulation / control part would be included in the game, this preview reassured us a lot. The latter revolves around struggle. What you do in the dungeons (death, resource …) will have an impact on your base and vice versa. It is therefore better to pace these parts by alternating between the phases of struggle and leadership each time. A cycle that could repeat itself in length, but which has not been during our more than two hours of play.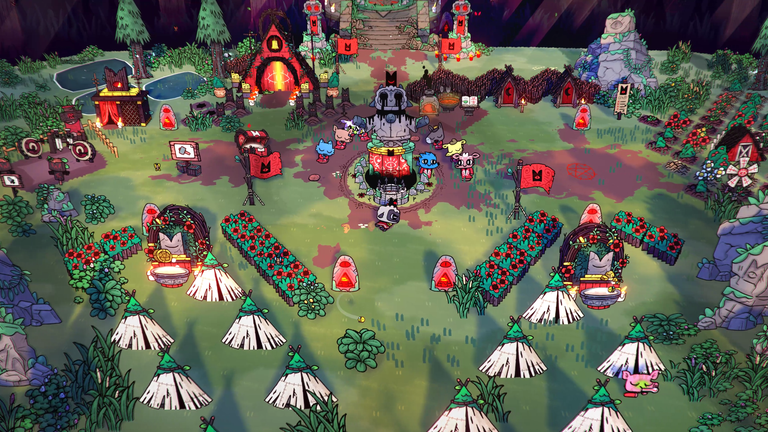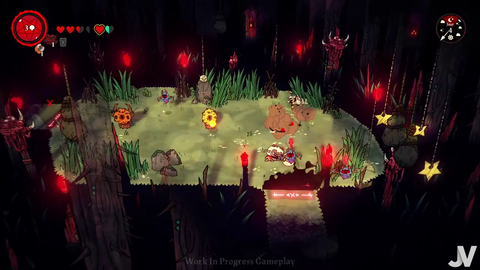 Now that we've covered these mechanics, let's talk about combat. Unexpectedly, these phases seem a bit backward in comparison. In addition to the sometimes messy side, some boss fights offer repetitive and not really exciting patterns. Nevertheless, the game sensations are really very good and the benefits / weapons sent through the dungeons are quite varied. Lamb cult therefore has nothing to be ashamed of when it comes to combat, although at this level it is still far from giants of the genre like The Binding of Isaac.
What about the difficulty level?
Note that you can change the difficulty level of the title at any time during your game. This will make enemies harder and you will find fewer little hearts to heal you along the way. Well-stocked roguelite enthusiasts will no doubt appreciate the awkward Very Hard mode, though it's important to note that you only lose 50% of your resources.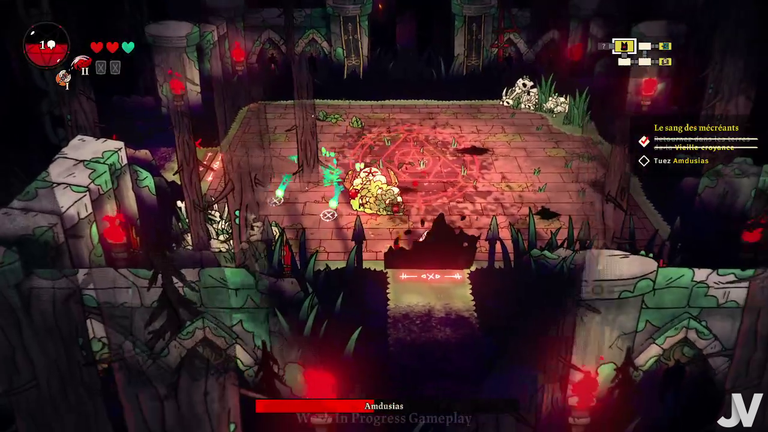 ---
Sweet, bloody and disturbing
If we tend to compare Cult of the Lamb with Edmund McMillen's play because of its roguelitic aspect, the atmosphere of the software plays a big role in it. Massive Monsters games have this little disturbing side that is clearly reminiscent of the very strange atmosphere of The Binding of Isaac. Nevertheless, the two titles here again do not play quite on the same track, especially not on the side of the artistic direction.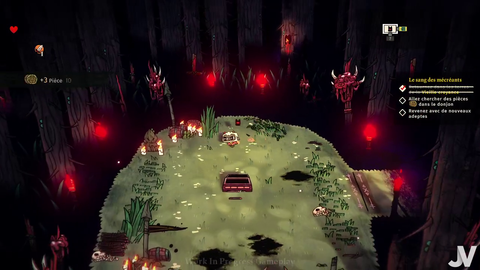 Cult of the Lamb is visually very successful. By mixing a colorful and sweet aspect with another much darker and unsettling one, the developers of Massive Monster have found a winning recipe. The game is beautiful and fun to get lost in. The graphic surprises are there too, especially on certain bosses who are particularly successful. Add to that a well-thought-out soundtrack (albeit a bit repetitive) and you have a little gem.
Moreover, the title shows some well-thought-out sarcasm. Between the absurd and the satire, the latter may not please everyone, but has enough to bring out many smiles. Some situations are comical to say the least, and we also feel a critique of corruption and despotism. Everything goes smoothly and gives the Cult of the Lamb an original feel that is really fun to discover.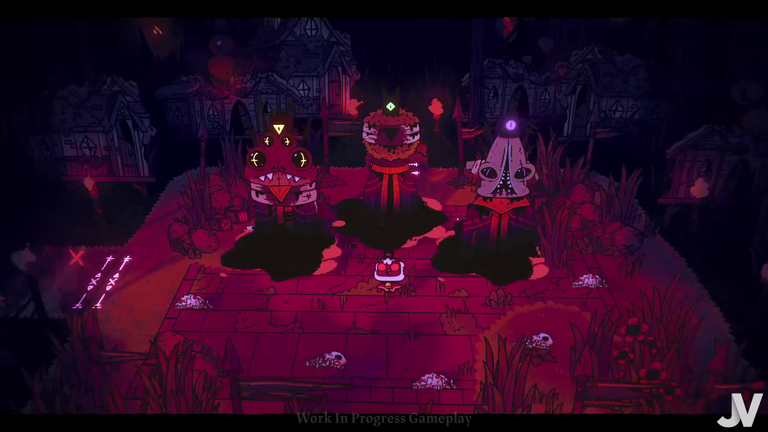 ---
Mini games, branches … From surprises to surprises
It's all in the title: Cult of the Lamb never ceases to amaze us. We who thought we only had the life simulation mechanics to really discover, it is clear that the title of Devolver has more than one card up its sleeve. It's simple, until the end of our session we were able to discover new leadership and roguelite mechanics (branching, enemy wave, etc.), but also others that were even more surprising.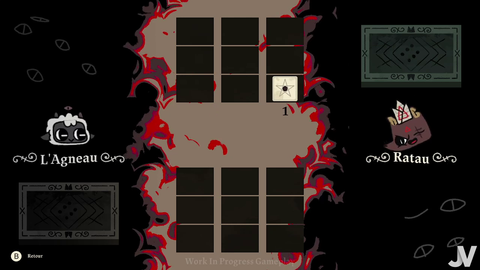 Cult of the Lamb will take you to different places to expand the aura of your cult. These will allow you to perform some small quests, to gain even more rewards and even to play mini-games. Sometimes very well thought out, other times much less, they are still a great way to diversify the experience a bit. and not sink into a boring routine. The gaming experience is thus much richer than it appears in Cult of the Lamb.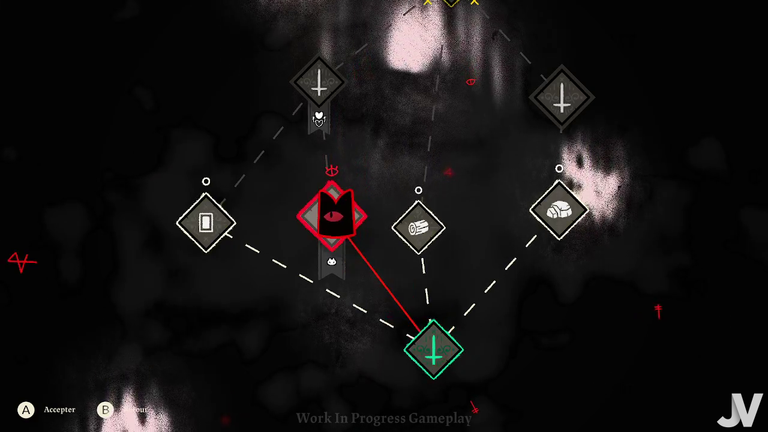 ---
It was a real pleasure to discover more in depth with the next title released by Devolver. And it is certainly not for nothing that the publisher puts this game so much forward. An atmosphere as sweet as it is unsettling, a complete and well thought out hybrid gameplay … Cult of the Lamb should give us a welcome fresh breath in August next year. The whole challenge with Massive Monster now is not to fall into too much repetition. But if the title continues to surprise us like this, that shouldn't be a problem. Whatever happens, we can not wait to get back to it.
Editorial Review
Exciting