Play news Ankama's new game (Dofus) is not at all as you imagine!
This is the surprise that Ankama had in store for us at the beginning of the week: the creators of the famous MMORPG Dofus are working on a new game, One More Gate: A Wakfu Legend. Return to the World of Twelve to follow an adventure that seems far ahead in terms of development. So much so that the title even offers a demo as part of Steam Neo Fest. We played it and we'll tell you about it!
Summary
Another Wakfu / Dofus game?

A Slay the Spire roguelit, really?
Steam Neo Fest
All Steam Neo Fest demos are available from June 13 to 20 (7pm). So there is still time to try some games that fascinate you to build your own joystick / mouse mind in hand.
Another Wakfu / Dofus game?
Did you miss World of Twelve? Well, that's good, because Ankama has decided to take us on a trip back to the countries in his flagship game, Dofus. This time we embody the young Oropo, whom we do not know much about, except that he obviously knows how to fight. Throughout the dungeons, he will really use his fists to defeat enemies that Ankama fans know well (from Gobball to Arakne). If we know a little about the history and history of the game, we still find some familiar silhouettes, as for a merchant Eliatrope or an old Enutrof. You may also come across statues representing the Krosmoz gods. One More Gate quickly sets the stage and it does not seem out of place for Ankama fans.
But that does not mean that the French studio is producing the same soup. With this title, he seeks to get out of his comfort zone, and this first requires an atypical artistic direction. Ankama leaves Dofus' fine lines to offer us a more refined design. Not enough to revolutionize the video game genre or make a few jaws drop, but this new style works well. The bucolic aspect of the game fits well with this artistic direction as well as the game's soundtrack. Whether it is through the battles, the village or the small scenes that serve as the backdrop for the dungeons, we enjoy discovering this whole new atmosphere.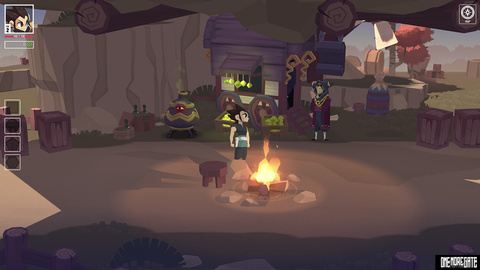 On the gameplay side, Ankama has also decided to take a closer look at a new genre. Presented as a roguelit deck builder, One More Gate has little to do with Dofus, other than the turn-based combat system. The game works with fairly standard dungeons, where each "room" offers either combat or a little rest, and sometimes even some rewards. The choice will sometimes be left to you, to take the right path strategically. Therefore, if you are planning to reach the end of the dungeon and its eight matches, you should not rush headlong.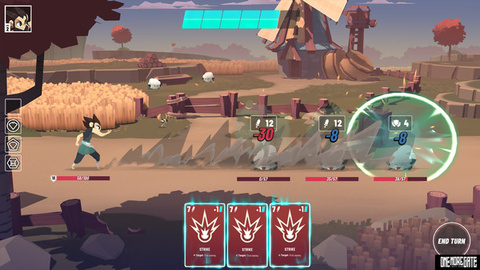 But these fights? How are you? Like we said, this is turn-based combat. Your actions are determined by cards that allow you to either attack or defend. To use them, tap into your Wakfu fountain, which fills each turn (before falling back to the starting point and so on). Each card requires a certain amount of Wakfu, and it is therefore necessary to think of the best strategy (use several small actions, strike a big blow …). To do this, you must also take into account the actions of your enemies, which are known before they are performed.
As you have probably understood, there are quite a few points to take into account. But that does not make the game inaccessible. Apart from a few issues with the readability of the interface, the game is very easy to play. However, this does not mean that it lacks difficulties. You will do this several times before completing a dungeon, and doing so will require a lot of strategy and a bit of luck. Everything seems fairly balanced, despite the fact that some effects (especially the poison) have already proven to be a little too strong. Nevertheless, we are not immune to seeing certain races of enemies who are insensitive to them to balance the gameplay.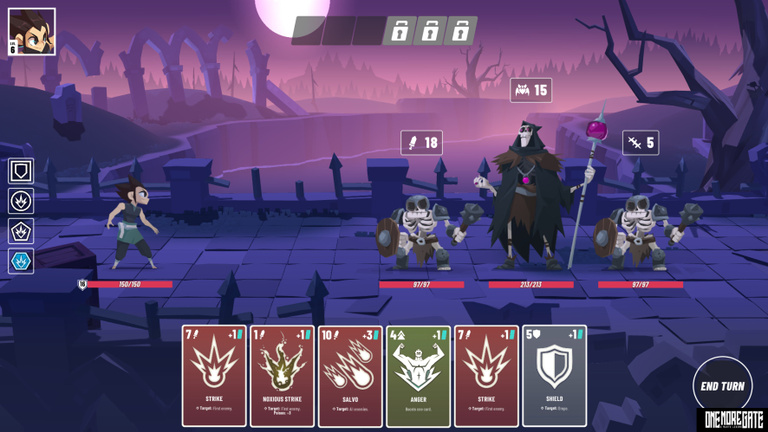 ---
A Slay the Spire roguelit, really?
By its structure, One More Gate is reminiscent of any roguelite. And yet it does not really fit into the usual definition of the genre. Of course, in the dungeons you will collect special cards and runes that allow you to gain advantages in battle, and which will disappear when you leave the dungeon. If the first is used as one of your cards, the second gives you certain obligations that are triggered during battle (e.g. regaining life after perfection). Again, the balancing is pretty well done. In addition, you can improve said liabilities or choose new ones to stick to your strategy thanks to the resources gathered.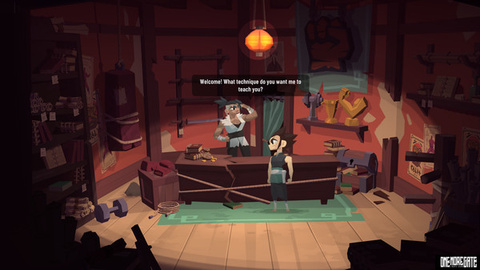 And since we're talking about resources, you should know that unlike a classic roguelite, you keep them after your death. So when you're out of Force Dungeon, you can go to the store to upgrade your deck and get back stronger in battle. This is how the game works too. Knowledge is not your greatest strength, but perseverance and money. As a good Enutrof, your goal during your first attempts is to gather as many kamas, experience, and shards as possible. You can go to the village to permanently improve your cards, return to battle and so on.
This progression system is neither frustrating nor superfluous in this demo. By rewarding the player quite significantly, One More Gate offers us a comfortable structure, combined with a very good combat system. But if you are a fan of very difficult roguelikes, the title Ankama can leave you with a bitter taste. For the others, the experience is comfortable and accessible throughout this short hour of play. Ankama therefore has a game with great potential and a good introduction to the roguelit tire builder genre, but which still has to prove itself over time, especially in terms of repetition and balancing.
As a reminder, One More Gate: A Wakfu Legend is planned for PC and Nintendo Switch. It does not have a release date yet.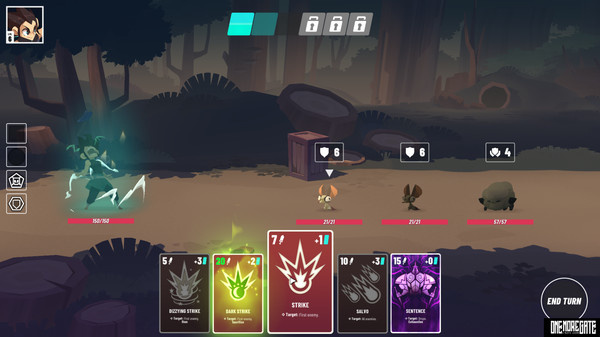 ---