Eager to act as a true matchmaker between Chinese and French business circles, the Chinese Business Club, masterfully directed by Harold Parisot, can be proud, just four years after its advent, of easily winning this ambitious bet.
"An eerie story. Four years ago, when I set up what was still only the beginning of the club, my ambition was to create a small informal network club. Today, it is a significant hub for decision makers from both sides." With eyes twinkling with pride, Harold Parisot rightly does not hide a certain satisfaction, he who has achieved what no one had the "presence of mind" to imagine before him: the establishment of a real platform for exchanges and business relations between Chinese decision-makers and the driving forces of the French economy. A "premium" club where the leaders of the two countries can "do business" in complete freedom and in complete relaxation under the gold from the most beautiful palaces in the capital, from the peninsula to Shangri-La via the Intercontinental hotel. "The Chinese love everything that glitters"emphasizes, teasingly, Harold Parisot, who refined and chiseled this project in direct line with his primary activity: luxury real estate outside the market.
Prestige as a cardinal virtue
Harold Parisot targets a clientele of wealthy foreigners from the Middle East, Russia – although Russian customers are now rarer – the Chinese mainland and Hong Kong who want to invest in real estate discreetly, noting that his clientele in Asia is resolutely eager to meet and discuss with the French decision. -magere. "They actually wanted to meet government officials, business leaders and even journalists", he abounds. In the belief that there is an opportunity to be caught, the brave forties who cultivate a certain discretion that lies in his profession are nonetheless a formidable man of networks. "I talked about it around me, especially to Laurent Dassault, and in September 2012, at the Polo Club of France, the Chinese business club was officially born", remembers Harold Parisot. At the end of the summer, only about fifty people responded to the invitation. But little by little, the club will create a reputation that will go beyond the French borders, which have already become too narrow.
Falke is sold during lunch
A first attempt that will turn into a masterpiece. With networks skillfully spread across the capital – from Parisian palaces to tourist guides and the Chinese embassy – more and more Chinese or Hong Kong economic or political leaders are not leaving Paris without a stopover in the "club". Dongfeng – which saved Peugeot from bankruptcy -, the Fosun Investment Fund, which certainly did the same with Club Med, and the top ambassadors of "Chinese Tech" like Huawei and Lenovo, have their "round towels". In the same way as French members like AccorHotels, Bouygues, Dassault Aviation or Richemont, who will soon have to pay 9,500 euros a year (against 7,500 euros so far) to attend about ten events a year.
A cost, admittedly insignificant for the aforementioned large groups, but which is far from insignificant for start-ups and other SMEs that are also members. But the response from the "master of ceremonies" is irreconcilable. "100% of the members have renewed their membership for four years". End of quote. A first-class positioning that works, rewarding exchanges and resolutely fruitful lunches. "Some sales of private Falcons (flagship aircraft of the Dassault Group) to wealthy Hong Kong businessmen took place during these lunches, although I am not aware of everything," he said. slips Harold Parisot, whose appointments cross the sky. Next step: a dinner held in China on April 8 with members of Xi Jinping's government.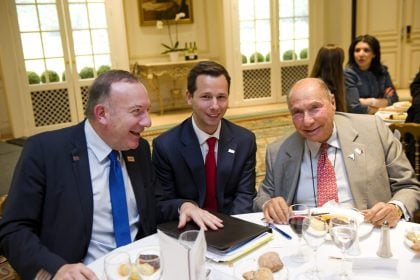 The diligent politicians
Because of this indisputable and undisputed success, what is Harold Parisot still chasing? The interested party unfolds as a political leader its roadmap in three points: 1) to bring more Chinese students to France, 2) to attract more Chinese tourists to the territory for the sake of our economy and all our French brands and 3) to make France a country with Chinese investments. "Otherwise, I assume that all this unexpected and this economic potential will go to London, Berlin or Geneva", emphasizes the forty-year-old, who praises the Chinese pragmatism in business, and from whom the French, according to him, should largely draw inspiration. "During a lunch with Chinese decision-makers, we immediately get to the heart of the matter, when things go more in circles with the French, to the point that we only address crucial issues at dessert time." A somewhat caricatured remark, but which has the advantage of highlighting the lack of action and willingness of French decision-makers.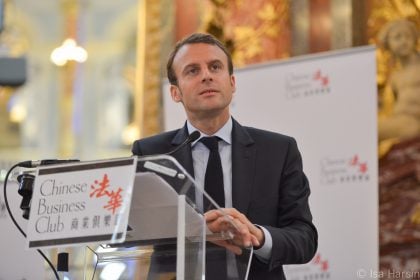 Crowned with these "famous" feedbacks, Harold Parisot even distills some advice for businesses that want to make themselves attractive in the eyes of Chinese consumers and especially Internet users. "It's a potential pool of 800 million customers, but I have a hard time understanding that there are so few French brands present on local social networks such as WeChat." An offensive speech that the public officials who came to lunch at the Chinese Business Club happily subscribe to, like Emmanuel Macron, then in Bercy, or Nicolas Sarkozy and, more surprisingly, the office of "Made in France", Arnaud Montebourg, when he headed the Ministry of Productive Recovery. "Even he at the time stressed the importance of intensifying Franco-Chinese ties", smiles Harold Parisot. Between speeches and deeds, the Chinese Business Club has made its choice.