Entrepreneur at heart, the former world number 1, entrusts himself exclusively to Forbes on his new full-time challenge: business. The five-time Grand Slam champion, who from the start was courted by the most prestigious brands, has made excellent use of his marketing experience. Its recent collaboration with Therabody reveals its much more strategic and perfectly assumed ambitions. Maintenance.
Since the announcement of your sports retirement at the beginning of the year, you are more present than ever in the business world. You say you are ready to "climb another mountain". What challenge are you facing?
Maria Sharapova : Business and entrepreneurship have always been my passions! In other words, I'm grabbing another mountain that I can not wait to climb. As a teenager, I had the opportunity to work with incredible brands, which definitely led to my interest in business, but also in starting a business, being set in motion. In 2012, I launched my company Sugarpova, which offers premium confectionery and chocolate. Since retiring from tennis at the beginning of the year, I appreciate having more time to develop and refine all my other projects, be it Therabody, Bala Bangles, The Skills and many more. I also spend more time looking for new partnerships and investment opportunities.
Where does this thirst for entrepreneurship come from?
MS : I think a lot of my entrepreneurial spirit comes from my career as an athlete. High-level sports go hand in hand with hard work, attention to detail and a consistent approach: all these special conditions that I have directly applied in my way of grasping sports and business. I will say that it became clear when I started working with Nike and other big brands. So I clearly remember those meetings in large conference rooms where I realized my trade deficit. However, I understood what a unique opportunity it could be for me to learn from these senior executives who are experts in their field. Since then, I have always emphasized being a part of the discussion process when it comes to strategic business decisions, with the goal of continuing to grow and learn.
Among your many collaborations, you recently decided to get more involved and take on the role of strategic advisor to the Therabody brand. Are you going beyond the financial investment?
MS : From my first conversation with Therabody CEO Ben Nazarian and his team, I knew this would be a great investment and a real collaboration. At this stage of my career, what excites me most is the opportunity to play a central role beyond a simple financial investment. I intend to not only associate my name with Therabody at a marketing level, but also to have the opportunity to influence the growth of the company on a daily basis.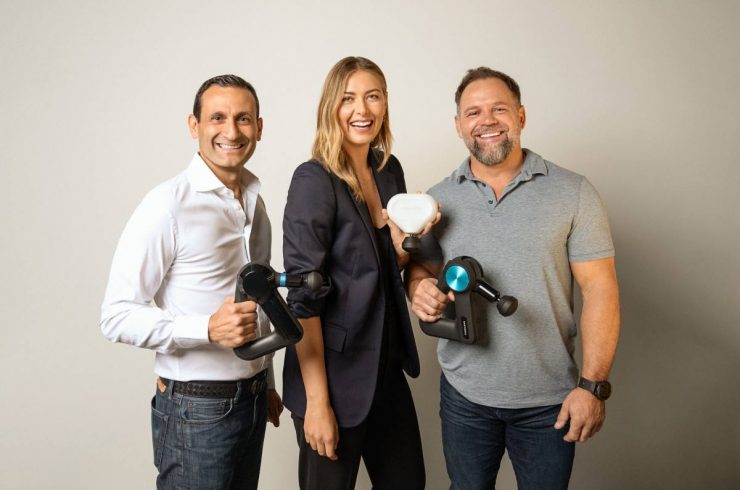 How do you intend to support the development of this player in technology and wellness, a thriving sector?
MS : As an athlete, I have always had a keen eye for health and well-being. From my position, I have seen how these two sectors have been affected by the technological revolution, and that is still only the beginning! The potential is huge and does not fail to fascinate me. When I look at the ecosystem of companies and brands operating in this field, I realize how much Therabody stands out from the competition. There is a real capacity to implement on a large scale in terms of technological innovations. Individuals and athletes at all levels benefit from this leadership. Specifically, products like Theragun have been able to make a huge difference in terms of daily hygiene.
Which business personality do you admire the most?
MS : I admire Melinda Gates' journey.
You are cited as an example of sports business: the Harvard Business School spent your career in a case study on how to "market a master" … What are your entrepreneurial tips for our readers to turn a start-up into a success story?
MS : Balances. This aspect is the key in a person's life. I have never compromised on this point in my entire career, my life. So much the more today as I enjoy more free time. It's also very useful to explore your interests outside of what really takes your time – whether it's business, sports or something else. I also want to tell your readers that they should never underestimate the importance of your team: yes, energy at work is important, but do not forget to listen to your partners. There is no better way to learn and grow! Surround yourself with people who will be excellent coaches and mentors for you because this kind of expertise is invaluable.
" Tennis, I say goodbye to you! »: that was your message to the world when you formalized your retirement from sports last February. What relationship do you intend to maintain to this sport that has made you champion and star?
MS : Tennis showed me the world and showed me what I was made of. I will miss him every day. Looking back, I realize that tennis has been a mountain for me. My journey has been made of detours and valleys. After 28 years and five Grand Slam titles, I'm ready to climb a new mountain. For now, I do not shy away from my pleasure of lingering over a cup of coffee in the morning, of escaping on the weekends during unexpected escapades, and of enjoying precious moments with my family.
What is your most memorable memory in your tennis career?
I've had so many amazing moments on my journey, but if I had to just name one, it would be to win Wimbledon as a 17-year-old. The taste of winning the first Grand Slam of my career …
What is the meeting that touched you the most?
Back then I could meet architect Frank Gehry in his studio.
And to finish: France, in one sentence?
The country is always in trend, which never gets old!